The Ultimate Beginner's Guide to IPD
Unlock Your Project's Full Potential
The construction industry is notoriously inefficient and fragmented. This often leads to delays, budget overruns, and subpar outcomes. Integrated Project Delivery (IPD) is a newer approach to construction that aims to address these problems.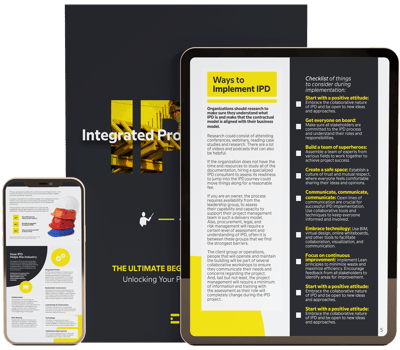 IPD has a number of benefits over traditional construction methods. It can lead to:
Shorter Project Schedules
Increased Satisfaction for all stakeholders


What is IPD?

IPD is a collaborative approach to construction that brings together all of the key stakeholders, including the owner, designer, builder, and tradespeople, early in the process. This allows everyone to work together to develop a shared vision for the project and to identify and resolve potential problems before they arise.
If you're looking for a way to improve the efficiency and effectiveness of your construction projects, IPD is a great option. To learn more about IPD, download our free guide today.
In this guide, you'll learn:
▶

What IPD is and how it works
▶

The benefits of IPD
▶

The challenges of IPD
▶

How to implement IPD on your next project